Valkyrie
Edit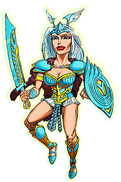 Valkyrie is one of the Heroes in the game. In-game description
Heals your hero and the units around over time: use it to save your weak units from death!
The queen of war leads her warriors to the victory! She can heal every units around her, saving them from death...
Valkyrie is a Melee hero, and she comes equipped with with Nature Healing Special Attack.
Currently, Valkyrie can only be acquired by unlocking her with gems in Asgard Gate.
Contstants
Edit
| Walking Speed | Shooting Range |
| --- | --- |
| 115 | 0 |
Level Up Potential
Edit
| Level | Health | Armor | Damage | Attack Speed | Roar |
| --- | --- | --- | --- | --- | --- |
| 1 Initial | 522 | 152,0% | 33 | 2,00 | 3,12 |
| 200 Max | 2800 | 350% | 280 | 2,17 | 14,98 |
Statistics
Edit
| Level | Experience | Health | Armor | Damage | Attack Speed | Roar |
| --- | --- | --- | --- | --- | --- | --- |
| 1 | 54 | 522 | 152,0% | 33 | 2,00 | 3,12 |
| 2 | 56 | 546 | 154,0% | 34 | 2,00 | 3,24 |
| 3 | 57 | 568 | 156,0% | 35 | 2,00 | 3,36 |
| 4 | 59 | 591 | 157,9% | 36 | 2,00 | 3,47 |
| 5 | 60 | 614 | 159,9% | 37 | 2,00 | 3,59 |
| 6 | 61 | 636 | 161,8% | 38 | 2,00 | 3,71 |
| 7 | 63 | 658 | 163,8% | 39 | 2,00 | 3,82 |
| 8 | 64 | 680 | 165,7% | 40 | 2,00 | 3,94 |
| 9 | 66 | 702 | 167,6% | 41 | 2,00 | 4,05 |
| 10 | 67 | 724 | 169,5% | 42 | 2,00 | 4,17 |
| 11 | 68 | 746 | 171,4% | 43 | 2,00 | 4,28 |
| 12 | 70 | 768 | 173,3% | 44 | 2,00 | 4,39 |
| 13 | 71 | 789 | 175,2% | 45 | 2,00 | 4,51 |
| 14 | 72 | 811 | 177,0% | 46 | 2,00 | 4,62 |
| 15 | 74 | 832 | 178,9% | 47 | 2,00 | 4,73 |
| 16 | 75 | 853 | 180,7% | 48 | 2,00 | 4,84 |
| 17 | 76 | 874 | 182,6% | 49 | 2,00 | 4,95 |
| 18 | 78 | 895 | 184,4% | 50 | 2,00 | 5,06 |
| 19 | 79 | 916 | 186,2% | 51 | 2,00 | 5,17 |
| 20 | 81 | 937 | 188,0% | 52 | 2,00 | 5,28 |
| 21 | 82 | 958 | 189,8% | 54 | 2,00 | 5,38 |
| 22 | 83 | 978 | 191,6% | 55 | 2,00 | 5,49 |
| 23 | 85 | 999 | 193,4% | 56 | 2,00 | 5,60 |
| 24 | 86 | 1019 | 195,1% | 57 | 2,00 | 5,70 |
| 25 | 87 | 1039 | 196,9% | 58 | 2,00 | 5,81 |
| 26 | 89 | 1059 | 198,6% | 59 | 2,00 | 5,91 |
| 27 | 90 | 1079 | 200,4% | 60 | 2,00 | 6,02 |
| 28 | 92 | 1099 | 202,1% | 61 | 2,00 | 6,12 |
| 29 | 93 | 1119 | 203,8% | 62 | 2,00 | 6,22 |
| 30 | 95 | 1138 | 205,5% | 63 | 2,00 | 6,33 |
| 31 | 96 | 1158 | 207,2% | 64 | 2,00 | 6,43 |
| 32 | 98 | 1177 | 208,9% | 65 | 2,00 | 6,53 |
| 33 | 99 | 1196 | 210,6% | 66 | 2,00 | 6,63 |
| 34 | 101 | 1216 | 212,2% | 67 | 2,00 | 6,73 |
| 35 | 102 | 1235 | 213,9% | 68 | 2,00 | 6,83 |
| 36 | 104 | 1253 | 215,5% | 70 | 2,00 | 6,93 |
| 37 | 106 | 1272 | 217,2% | 71 | 2,00 | 7,02 |
| 38 | 107 | 1291 | 218,8% | 72 | 2,00 | 7,12 |
| 39 | 109 | 1310 | 220,4% | 73 | 2,00 | 7,22 |
| 40 | 111 | 1328 | 222,0% | 74 | 2,00 | 7,32 |
| 41 | 112 | 1346 | 223,6% | 75 | 2,00 | 7,41 |
| 42 | 114 | 1365 | 225,2% | 76 | 2,00 | 7,51 |
| 43 | 116 | 1383 | 226,8% | 77 | 2,00 | 7,60 |
| 44 | 118 | 1401 | 228,3% | 78 | 2,00 | 7,69 |
| 45 | 120 | 1419 | 229,9% | 79 | 2,00 | 7,79 |
| 46 | 121 | 1436 | 231,4% | 81 | 2,00 | 7,88 |
| 47 | 123 | 1454 | 233,0% | 82 | 2,00 | 7,97 |
| 48 | 125 | 1472 | 234,5% | 83 | 2,00 | 8,06 |
| 49 | 127 | 1489 | 236,0% | 84 | 2,00 | 8,15 |
| 50 | 129 | 1506 | 237,5% | 85 | 2,00 | 8,24 |
| 51 | 132 | 1523 | 239,0% | 86 | 2,00 | 8,33 |
| 52 | 134 | 1541 | 240,5% | 87 | 2,00 | 8,42 |
| 53 | 136 | 1558 | 242,0% | 88 | 2,00 | 8,51 |
| 54 | 138 | 1574 | 243,4% | 89 | 2,00 | 8,60 |
| 55 | 140 | 1591 | 244,9% | 91 | 2,00 | 8,69 |
| 56 | 143 | 1608 | 246,3% | 92 | 2,00 | 8,77 |
| 57 | 145 | 1624 | 247,8% | 93 | 2,00 | 8,86 |
| 58 | 147 | 1641 | 249,2% | 94 | 2,00 | 8,94 |
| 59 | 150 | 1657 | 250,6% | 95 | 2,00 | 9,03 |
| 60 | 152 | 1673 | 252,0% | 96 | 2,00 | 9,11 |
| 61 | 155 | 1689 | 253,4% | 97 | 2,00 | 9,20 |
| 62 | 158 | 1705 | 254,8% | 99 | 2,00 | 9,28 |
| 63 | 160 | 1721 | 256,2% | 100 | 2,00 | 9,36 |
| 64 | 163 | 1737 | 257,5% | 101 | 2,00 | 9,44 |
| 65 | 166 | 1752 | 258,9% | 102 | 2,00 | 9,53 |
| 66 | 169 | 1768 | 260,2% | 103 | 2,04 | 9,61 |
| 67 | 172 | 1783 | 261,6% | 104 | 2,04 | 9,69 |
| 68 | 174 | 1798 | 262,9% | 106 | 2,04 | 9,77 |
| 69 | 177 | 1813 | 264,2% | 107 | 2,04 | 9,84 |
| 70 | 181 | 1828 | 265,5% | 108 | 2,04 | 9,92 |
| 71 | 184 | 1843 | 266,8% | 109 | 2,04 | 10,00 |
| 72 | 187 | 1858 | 268,1% | 110 | 2,04 | 10,08 |
| 73 | 190 | 1873 | 269,4% | 111 | 2,04 | 10,15 |
| 74 | 194 | 1887 | 270,6% | 113 | 2,04 | 10,23 |
| 75 | 197 | 1902 | 271,9% | 114 | 2,04 | 10,30 |
| 76 | 200 | 1916 | 273,1% | 115 | 2,04 | 10,38 |
| 77 | 204 | 1930 | 274,4% | 116 | 2,04 | 10,45 |
| 78 | 208 | 1944 | 275,6% | 117 | 2,04 | 10,53 |
| 79 | 211 | 1958 | 276,8% | 118 | 2,04 | 10,60 |
| 80 | 215 | 1972 | 278,0% | 120 | 2,04 | 10,67 |
| 81 | 219 | 1986 | 279,2% | 121 | 2,04 | 10,74 |
| 82 | 223 | 1999 | 280,4% | 122 | 2,04 | 10,81 |
| 83 | 227 | 2013 | 281,6% | 123 | 2,04 | 10,88 |
| 84 | 231 | 2026 | 282,7% | 124 | 2,04 | 10,95 |
| 85 | 235 | 2040 | 283,9% | 126 | 2,04 | 11,02 |
| 86 | 239 | 2053 | 285,0% | 127 | 2,04 | 11,09 |
| 87 | 244 | 2066 | 286,2% | 128 | 2,04 | 11,16 |
| 88 | 248 | 2079 | 287,3% | 129 | 2,04 | 11,23 |
| 89 | 253 | 2092 | 288,4% | 131 | 2,04 | 11,29 |
| 90 | 257 | 2104 | 289,5% | 132 | 2,04 | 11,36 |
| 91 | 262 | 2117 | 290,6% | 133 | 2,04 | 11,43 |
| 92 | 267 | 2129 | 291,7% | 134 | 2,04 | 11,49 |
| 93 | 272 | 2142 | 292,8% | 135 | 2,04 | 11,56 |
| 94 | 276 | 2154 | 293,8% | 137 | 2,04 | 11,62 |
| 95 | 281 | 2166 | 294,9% | 138 | 2,04 | 11,68 |
| 96 | 287 | 2178 | 295,9% | 139 | 2,04 | 11,74 |
| 97 | 292 | 2190 | 297,0% | 140 | 2,04 | 11,81 |
| 98 | 297 | 2202 | 298,0% | 142 | 2,04 | 11,87 |
| 99 | 302 | 2214 | 299,0% | 143 | 2,04 | 11,93 |
| 100 | 308 | 2225 | 300,0% | 144 | 2,04 | 11,99 |
| 101 | 314 | 2237 | 301,0% | 145 | 2,04 | 12,05 |
| 102 | 319 | 2248 | 302,0% | 146 | 2,04 | 12,11 |
| 103 | 325 | 2259 | 303,0% | 148 | 2,04 | 12,17 |
| 104 | 331 | 2270 | 303,9% | 149 | 2,04 | 12,22 |
| 105 | 337 | 2281 | 304,9% | 150 | 2,04 | 12,28 |
| 106 | 343 | 2292 | 305,8% | 151 | 2,04 | 12,34 |
| 107 | 349 | 2303 | 306,8% | 153 | 2,04 | 12,39 |
| 108 | 356 | 2313 | 307,7% | 154 | 2,04 | 12,45 |
| 109 | 362 | 2324 | 308,6% | 155 | 2,04 | 12,50 |
| 110 | 368 | 2334 | 309,5% | 157 | 2,04 | 12,56 |
| 111 | 375 | 2345 | 310,4% | 158 | 2,04 | 12,61 |
| 112 | 382 | 2355 | 311,3% | 159 | 2,04 | 12,66 |
| 113 | 389 | 2365 | 312,2% | 160 | 2,04 | 12,72 |
| 114 | 396 | 2375 | 313,0% | 162 | 2,04 | 12,77 |
| 115 | 403 | 2385 | 313,9% | 163 | 2,04 | 12,82 |
| 116 | 410 | 2394 | 314,7% | 164 | 2,04 | 12,87 |
| 117 | 417 | 2404 | 315,6% | 165 | 2,04 | 12,92 |
| 118 | 425 | 2414 | 316,4% | 167 | 2,08 | 12,97 |
| 119 | 432 | 2423 | 317,2% | 168 | 2,08 | 13,02 |
| 120 | 440 | 2432 | 318,0% | 169 | 2,08 | 13,07 |
| 121 | 448 | 2441 | 318,8% | 171 | 2,08 | 13,11 |
| 122 | 455 | 2450 | 319,6% | 172 | 2,08 | 13,16 |
| 123 | 463 | 2459 | 320,4% | 173 | 2,08 | 13,21 |
| 124 | 472 | 2468 | 321,1% | 174 | 2,08 | 13,25 |
| 125 | 480 | 2477 | 321,9% | 176 | 2,08 | 13,30 |
| 126 | 488 | 2485 | 322,6% | 177 | 2,08 | 13,34 |
| 127 | 497 | 2494 | 323,4% | 178 | 2,08 | 13,39 |
| 128 | 505 | 2502 | 324,1% | 180 | 2,08 | 13,43 |
| 129 | 514 | 2510 | 324,8% | 181 | 2,08 | 13,47 |
| 130 | 523 | 2518 | 325,5% | 182 | 2,08 | 13,52 |
| 131 | 532 | 2526 | 326,2% | 184 | 2,08 | 13,56 |
| 132 | 541 | 2534 | 326,9% | 185 | 2,08 | 13,60 |
| 133 | 550 | 2542 | 327,6% | 186 | 2,08 | 13,64 |
| 134 | 560 | 2550 | 328,2% | 188 | 2,08 | 13,68 |
| 135 | 569 | 2557 | 328,9% | 189 | 2,08 | 13,72 |
| 136 | 579 | 2565 | 329,5% | 190 | 2,08 | 13,76 |
| 137 | 589 | 2572 | 330,2% | 192 | 2,08 | 13,79 |
| 138 | 599 | 2579 | 330,8% | 193 | 2,08 | 13,83 |
| 139 | 609 | 2586 | 331,4% | 194 | 2,08 | 13,87 |
| 140 | 619 | 2593 | 332,0% | 196 | 2,08 | 13,91 |
| 141 | 630 | 2600 | 332,6% | 197 | 2,08 | 13,94 |
| 142 | 640 | 2607 | 333,2% | 198 | 2,08 | 13,98 |
| 143 | 651 | 2613 | 333,8% | 200 | 2,08 | 14,01 |
| 144 | 662 | 2620 | 334,3% | 201 | 2,08 | 14,04 |
| 145 | 673 | 262 | 334,9% | 202 | 2,08 | 14,08 |
| 146 | 384 | 2633 | 335,4% | 204 | 2,08 | 14,11 |
| 147 | 395 | 2639 | 336,0% | 205 | 2,08 | 14,14 |
| 148 | 706 | 2645 | 336,5% | 206 | 2,08 | 14,17 |
| 149 | 718 | 2651 | 337,0% | 208 | 2,08 | 14,20 |
| 150 | 730 | 267 | 337,5% | 209 | 2,08 | 14,23 |
| 151 | 741 | 2662 | 338,0% | 210 | 2,08 | 14,26 |
| 152 | 753 | 2668 | 338,5% | 212 | 2,08 | 14,29 |
| 153 | 766 | 2673 | 339,0% | 213 | 2,08 | 14,32 |
| 154 | 778 | 2679 | 339,4% | 214 | 2,13 | 14,35 |
| 155 | 790 | 2684 | 339,9% | 216 | 2,13 | 14,38 |
| 156 | 803 | 2689 | 340,3% | 217 | 2,13 | 14,40 |
| 157 | 816 | 2694 | 340,8% | 219 | 2,13 | 14,43 |
| 158 | 829 | 2699 | 341,2% | 220 | 2,13 | 14,45 |
| 159 | 842 | 2704 | 341,6% | 221 | 2,13 | 14,48 |
| 160 | 855 | 2708 | 342,0% | 223 | 2,13 | 14,50 |
| 161 | 868 | 2713 | 342,4% | 224 | 2,13 | 14,53 |
| 162 | 882 | 2717 | 342,8% | 225 | 2,13 | 14,55 |
| 163 | 896 | 2722 | 343,2% | 227 | 2,13 | 14,57 |
| 164 | 910 | 2726 | 343,5% | 228 | 2,13 | 14,59 |
| 165 | 924 | 2730 | 343,9% | 230 | 2,13 | 14,62 |
| 166 | 938 | 2734 | 344,2% | 231 | 2,13 | 14,64 |
| 167 | 952 | 2738 | 344,6% | 232 | 2,13 | 14,66 |
| 168 | 967 | 2741 | 344,9% | 234 | 2,13 | 14,68 |
| 169 | 982 | 2745 | 345,2% | 235 | 2,13 | 14,69 |
| 170 | 997 | 2749 | 345,5% | 237 | 2,13 | 14,71 |
| 171 | 1012 | 2752 | 345,8% | 238 | 2,13 | 14,73 |
| 172 | 1027 | 2755 | 346,1% | 240 | 2,13 | 14,75 |
| 173 | 1042 | 2758 | 346,4% | 241 | 2,13 | 14,76 |
| 174 | 1058 | 2761 | 346,6% | 242 | 2,13 | 14,78 |
| 175 | 1074 | 2764 | 346,9% | 244 | 2,13 | 14,79 |
| 176 | 1090 | 2767 | 347,1% | 245 | 2,13 | 14,81 |
| 177 | 1106 | 2770 | 347,4% | 247 | 2,13 | 14,82 |
| 178 | 1122 | 2772 | 347,6% | 248 | 2,13 | 14,84 |
| 179 | 1139 | 2775 | 347,8% | 249 | 2,13 | 14,85 |
| 180 | 1155 | 2777 | 348,0% | 251 | 2,13 | 14,86 |
| 181 | 1172 | 2780 | 348,2% | 252 | 2,13 | 14,87 |
| 182 | 1189 | 2782 | 348,4% | 254 | 2,13 | 14,88 |
| 183 | 1207 | 2784 | 348,6% | 255 | 2,17 | 14,89 |
| 184 | 1224 | 2786 | 348,7% | 257 | 2,17 | 14,90 |
| 185 | 1242 | 2787 | 348,9% | 258 | 2,17 | 14,91 |
| 186 | 1260 | 2789 | 349,0% | 260 | 2,17 | 14,92 |
| 187 | 1278 | 2791 | 349,2% | 261 | 2,17 | 14,93 |
| 188 | 1296 | 2792 | 349,3% | 262 | 2,17 | 14,94 |
| 189 | 1314 | 2793 | 349,4% | 264 | 2,17 | 14,94 |
| 190 | 1333 | 2795 | 349,5% | 265 | 2,17 | 14,95 |
| 191 | 1351 | 2796 | 349,6% | 267 | 2,17 | 14,96 |
| 192 | 1370 | 2797 | 349,7% | 268 | 2,17 | 14,96 |
| 193 | 1389 | 2798 | 349,8% | 270 | 2,17 | 14,97 |
| 194 | 1409 | 2798 | 349,8% | 271 | 2,17 | 14,97 |
| 195 | 1428 | 2799 | 349,9% | 273 | 2,17 | 14,97 |
| 196 | 1448 | 2799 | 349,9% | 274 | 2,17 | 14,97 |
| 197 | 1468 | 2800 | 350,0% | 276 | 2,17 | 14,98 |
| 198 | 1488 | 2800 | 350,0% | 277 | 2,17 | 14,98 |
| 199 | 1509 | 2800 | 350,0% | 279 | 2,17 | 14,98 |
| 200 | 1529 | 2800 | 350,0% | 280 | 2,17 | 14,98 |